Real technology, real savings, real smart!
HPCD is made using proprietary processes and technologies to refine, purify and improve ULSD #2 diesel into a superior, high performance clean fuel. HPCD is a clear champion in fuel efficiency, reduced emissions and protection for your equipment – and lower operating costs.
PRESS RELEASE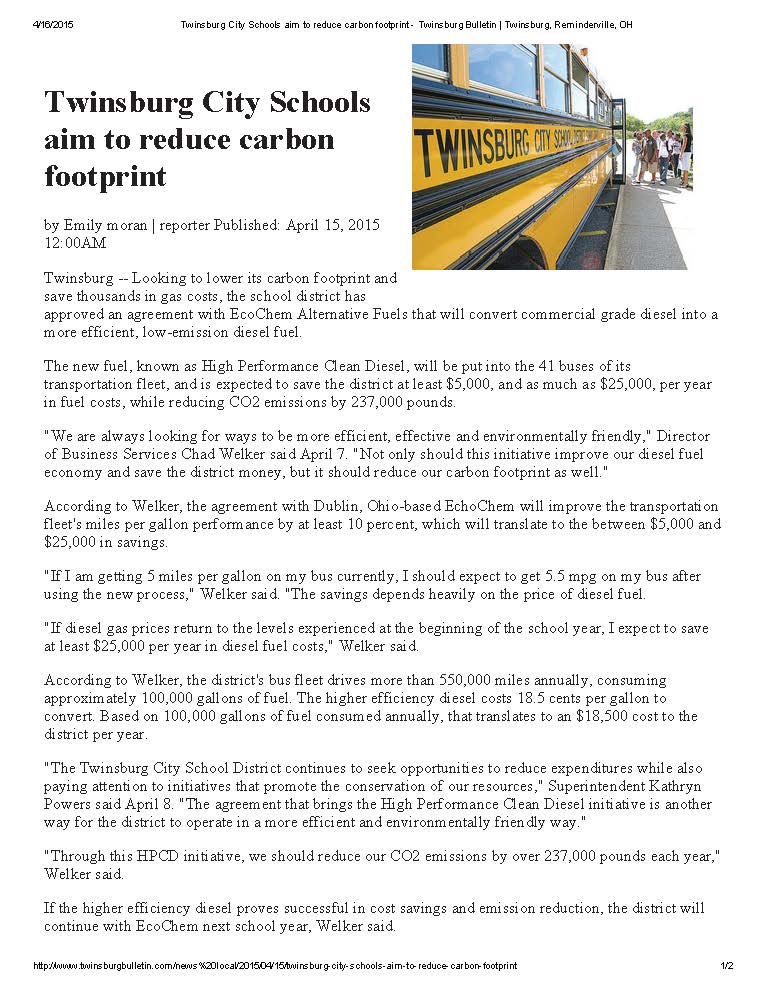 ---

Just the Facts

HPCDᵀᴹ meets ASTM specifications and EPA regulatory guidelines
Multiple field studies have shown 10% or greater increase in fuel efficiency (MPG)
Studies show HPCD to be cleaner burning and better for engines than ULSD #2
35% better lubrication when compared to ULSD
Greater horsepower and throttle response due to higher combustion efficiency.
Q: What is High Performance Clean Diesel?
A: High Performance Clean Diesel, or HPCD™ is highly refined commercial fuel that has superior lubricating, stabilizing and cleansing properties that help protect critical engine components from the risks associated with poor quality, regular ULSD fuel. HPCD™ is proven to have higher combustion efficiency producing more horsepower and/or better MPG while creating less Volatile Organic Compound (VOC's) than standard ULSD. In addition, HPCD™ is the only fuel in the world that is produced from EcoChem's patent pending, fluid particle refinement processes at the point of sale! High Performance Clean Diesel is more than a fuel; It's the new final stage of QA/QC in the supply chain for fossil fuels.
Q: Why is HPCD™ better than regular diesel?
A: Simply put, better fuel performs better. Fuel experts say that the fuel quality is so unpredictable there is as much as 30% difference in quality from best to worst. Diesel Progress cited, "poor quality of fuel to be the #1 cause of engine failure". Corroding storage tanks, pipelines, water from flushing out supply lines between distant refineries along with multiple other points of contamination result in inconsistent or poor quality fuel at the pump. These new dynamic processes ensure that your vehicles get the highest quality fuel on every fill-up at the pump.
Q: Why is HPCD™ better for the environment?
A: Better fuel also burns cleaner. By eliminating regular ULSD contaminates and improving its molecular properties, HPCD™ is naturally going to achieve a higher combustion efficiency, thereby reducing VOC like; NOX, HC and black smoke -- and protecting our natural resources.
Q: How much does it cost?
A: HPCD™is typically priced at twenty cents ($.20) per gallon above the pump price of standard ULSD #2. The averages say "spend 5% to save 10%". After 2 years the City of Dublin reported a 10.7% fuel saving. Many who use HPCD™ report similar improvements.
Q: What else can HPCD™ do for my fleet?
A: HPCD™ customers benefit in other important ways:

Faster Cold Starts
Lower Exhaust Gas Temperature
Up to 35% More Lubricity than ULSD
Up to 10% more Horsepower and Improved Performance
Cleans, protects and extends life of vital equipment Parts
Stable up to 6X Longer than standard ULSD
Reduces Crankcase Contamination
Lowers maintenance cost
Less Pollution
Q: Where can I buy HPCD™?
A:HPCD™ is available now in bulk quantities throughout Ohio.
Clean Fuels Initiative
Receive a FREE tank inspection
Receive a Business Case Impact Analysis specific to your fleet from EcoChem Alternative Fuels.
Begin purchase of HPCD in your fleet immediately after fuel storage tank(s) have been inspected and cleaned.